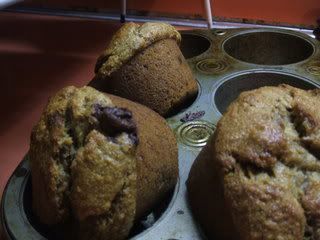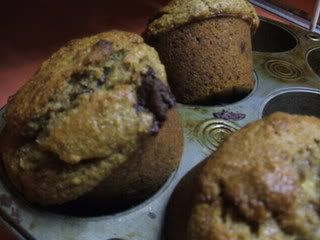 Banana Bread Muffins.
Best banana bread/banana bread muffs.
I'll mimmick
Isa's super old post on the ppk food porn thread
and say
"This is basically the ppk recipe with oil instead of margarine and with ginger instead of cinnamon. I had some chocolate covered crystallized ginger left over so I threw it in, you should try that someday, it's yumpers."
The PPK Banana Bread(muffins!)
Ingredients
1/2 cup brown sugar
1/2 cups white sugar
1/2 cup margarine, at room temp
3 very ripe bananas, mashed well
2 cups flour
1/2 teaspoon baking soda
1/4 cup vanilla soy milk, mixed with 1 teaspoon apple cider vinegar
1 teaspoon vanilla
1 teaspoon cinnamon
1/4 teaspoon allspice
1/2 teaspoon salt
Directions
Preheat oven to 350 F. Spray a 8x4 bread pan with non stick cooking spray, or lightly coat with margarine.
Sift together flour, baking soda, salt and spices.
Cream together the margarine and sugars. Add bananas, soy milk and vanilla.
Add the wet ingredients to the dry. Mix well. Pour batter into pan. Bake for an hour to an hour 10 minutes.
*For jumbo muffins,follow all directions,but bake for 31-33 minutes,until toothpick comes out clean and they're moist but not squishy and wet.Makes 6 jumbo muffins.